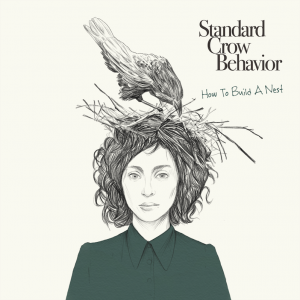 'How to Build a Nest' EP
Elegant glänzt ein einziges Mikrofon von der Mitte der Bühne. Zwei große Männer und eine kleine Frau treten mit ihren Instrumenten ins Licht und singen über einen Mann, der nach Jahren seine verschollene Liebe sucht. Finden wird er sie nicht, hatte sie in Wahrheit doch nie getroffen… Nicht alle Songs der deutsch-amerikanischen Band Standard Crow Behavior sind so skurril. Es geht um Aufbruch, den Wunsch zu vergessen, um ewige Liebe und das Altwerden, um Wellen, die alles und jeden mitreißen und die Frage nach dem richtigen Leben.
Der Name der Band ist einer traditionsreichen amerikanischen Radioshow entliehen, dennoch fühlen sich die drei jungen Musiker nicht nur wohl mit rasantem old-timey Bluegrass. Sie alle schreiben Songs und schaffen eine fließende Verbindung aus traditionellem Folk, modernem Pop, durchkomponierter Musik und Jazz. Ohne Unterbrechung und mit traumwandlerischer Sicherheit wird sich zwischen den Songs an Gitarre, Mandoline, Banjo, Geige und Violine abgewechselt. Sie sind vielseitig und machen sich zu nichts Geringerem auf, als an einem neuen Begriff zu forschen: Kammerfolk.
Ihr leidenschaftlicher dreistimmiger Satzgesang macht den Einsatz von Klangeffekten überflüssig und lässt den Zuhörer für einen Augenblick stillstehen und den Moment genießen. Standard Crow Behavior spielen Musik, die für sich selbst spricht. Ganz ursprünglich. Gesungen und gespielt Seite an Seite. Durch ein Mikrofon.
A single silver microphone glimmers elegantly from the center of the stage. Two tall gentlemen and one small lady step into the light with their instruments and sing about a man, searching for his lost love even after many years. Ultimately he will never find her, in fact the two have never met… Not every song from the German-American trioStandard Crow Behavior is so bizarre. They are also about departure, the desire to forget, eternal love and aging; they describe the forces which move everyone and everything, and question of the right path of life.
The name of the band is drawn from a traditional American radio show, but the three young musicians don't feel at home only with old-timey bluegrass. They all write songs and create a flowing blend of traditional folk, modern pop, intricately arranged compositions and jazz. Without pause, the guitar, banjo, mandolin and violin are swapped between songs with somnambulistic surety. These three are versatile in their active development of a new concept: Chamber Folk.
Their strong three-part harmony weaves a layer of sound needing no special effects, allowing listeners to take pause and enjoy a moment of standstill. Standard Crow Behavior plays music which speaks for itself. Completely pure. Sung and played string by string. Through one microphone.
Standard Crow Behavior sind:
Judith Beckedorf
Gesang, Mandoline, Banjo
Steve Voltz
Gesang, Gitarre
Filip Sommer
Gesang, Violine, Mandoline