English description below
The Other Side ist das musikalische Aufeinandertreffen der Dresdner Gitarristin Judith Beckedorf und der amerikanischen Singer/ Songwriterin Sean Della Croce aus Nashville, Tennessee. Die beiden sind befreundet seit Beckedorf in 2016 für ein Jahr in Nashville studierte. Als 2020 die Welt von der Coronapandemie festgehalten wurde, begannen Beckedorf und Della Croce in virtuellen Songwriting Sessions über eine Entfernung von mehr als 7.000km hinweg Songs zu schreiben. Ihre musikalische Zusammenarbeit fußt dabei auf gemeinsamen Werten wie sozialer und ökologischer Gerechtigkeit. Sie setzen ihre beiden Stimmen ein und spielen Gitarre, Mandoline und Banjo und erzählen von Regentagen, Aktivismus, Bäumen und ihrer Wunschvorstellung von einem gesunden menschlichen Miteinander. Das Ergebnis ist ein Album bestehend aus 10 Songs, stilistisch zwischen Americana und Pop mit ein wenig Bluegrass dazwischen.
"Ein Album voller eigener Musik und Gedanken zu schreiben und zu produzieren ist ein wirklich erhebendes Gefühl", sagt Beckedorf, "aber besonders freue ich mich, die Musik mit Sean zum Leben zu erwecken und live zu spielen." Della Croce ergänzt: "Die Arbeit am Album war unheimlich kreativ und erfüllend. Judith ist eine talentierte Musikerin und eine fantastische Co-Writing-Partnerin. Es war sehr inspirierend für mich, so frei Musik zu schreiben in einer Zeit, in der Livemusik pausiert war."
Auf der Bühne performen Beckedorf und Della Croce sowohl solo als auch im Duo und stellen dabei die Songs des neuen Albums The Other Side vor. Die beiden arbeiten mit vollem Einsatz daran, die CD-Produktion und Tour so ökologisch nachhaltig wie möglich zu gestalten, z.B. mit CO2 Kompensation ihrer internationalen Flüge und einer umweltfreundlichen CD-Hülle.
Exklusive und vertrauliche Demos des Albums:
Deutschland Tour:
09.09.2022 Dresden • Societätstheater – Zirkuszelt im Alaunpark
10.09.2022 Weimar • Mon Ami
11.09.2022 Leipzig • Neues Schauspiel
13.09.2022 Berlin • Petruskirche
15.09.2022 Born a.d. Darß • Haus Sommertheater
16.09.2022 Winsen (Luhe) • Marstall
17.09.2022 Magdeburg • Volksbad Buckau – Frauenzentrum Courage
21.09.2022 Annaberg-Buchholz • Alte Brauerei
22.09.2022 Nürnberg • Tucherschloss
24.09.2022 Erfurt • Jazzclub
27.09.2022 Löningen • Kulturcafé
28.09.2022 Essen • JuBB Werden
29.09.2022 Mainz • Mayence Acoustique
30.09.2022 Weinstadt • Jazzclub Armer Konrad
01.10.2022 Birkenried • Kulturgewächshaus

Kontakt:
Judith Beckedorf
judith@judithbeckedorf.de
+49 160 6443307
The Other Side is a musical meeting of the minds between German guitarist Judith Beckedorf (Dresden) and American singer-songwriter Sean Della Croce (Nashville). The pair have been friends since Beckedorf studied at Della Croce's alma mater, Belmont University in 2016. When the coronavirus pandemic struck in 2020, the duo began to collaborate remotely–writing songs back and forth across an international divide. In addition to their musical efforts, Beckdorf and Della Croce found common ground contemplating topics like community building, mindfulness, and the climate crisis. The result is a 10 song record that ranges from Americana to pop with a little Bluegrass in between.
"Writing and producing an album of your own music is always an uplifting experience," states Beckedorf. "But, bringing the music to life together with Sean for the first time ever, and playing it to a live audience is something I am especially looking forward to." Della Croce adds, "Working on this project has been really fulfilling creatively. Judith is so talented and a great co-writer. It was truly inspiring to be able to create so freely at a time when touring and recording had come to a standstill."
On stage, each woman will perform music from their solo projects and will then join each other on stage to perform music from The Other Side. The duo will make special efforts to keep this tour as green as possible with carbon offsets for international flights and earth-conscious CD packaging and production practices.
Poster preview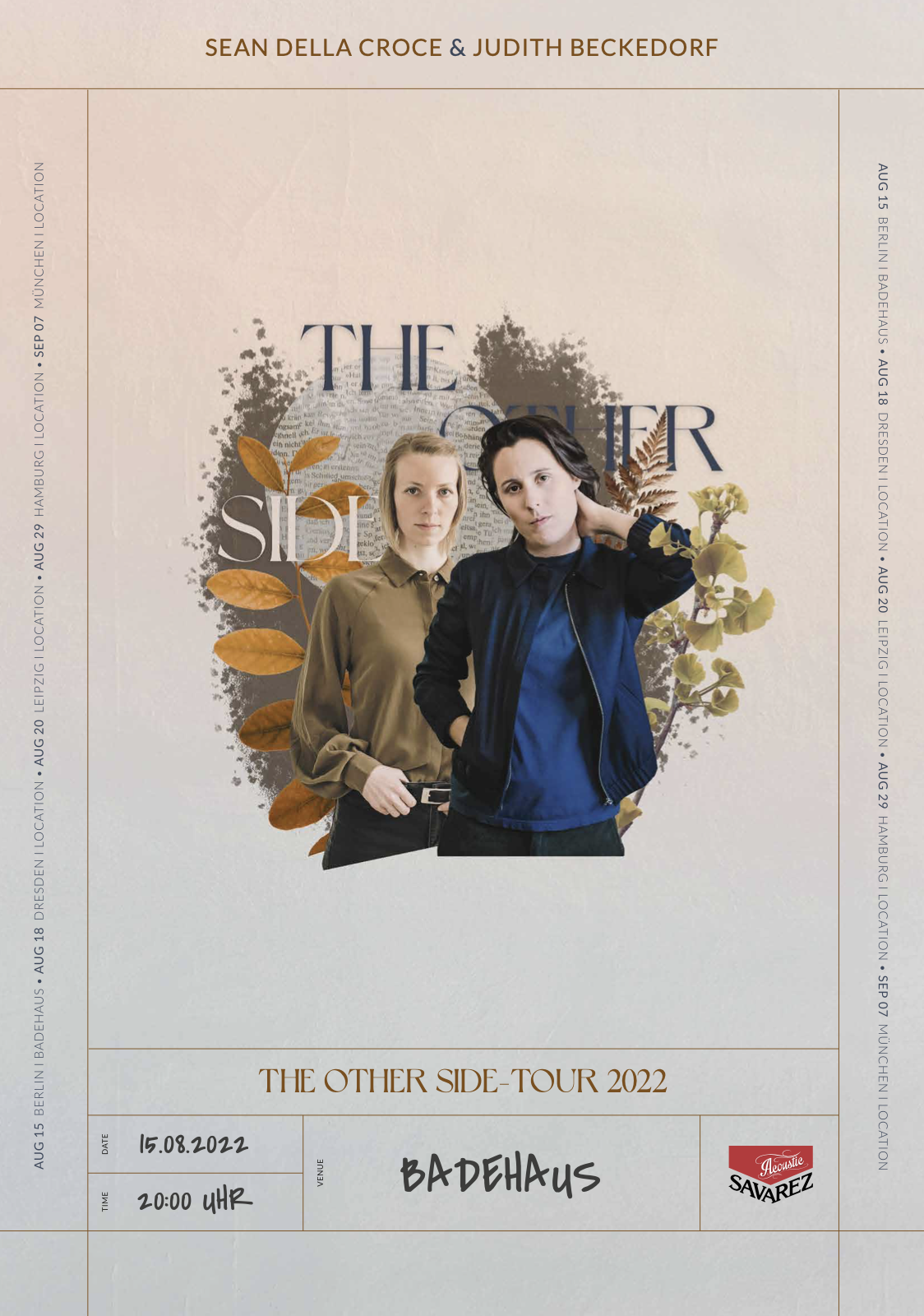 If We Were Vampires (Jason Isbell) – Sean Della Croce & Judith Beckedorf
Recorded live in Nashville, TN
Sean Della Croce
www.seandellacroce.com
Youtube • Facebook • Instagram • Spotify

Judith Beckedorf
www.judithbeckedorf.de
Youtube • Facebook • Instagram • Spotify