Blog Entry #2 / 9-29-16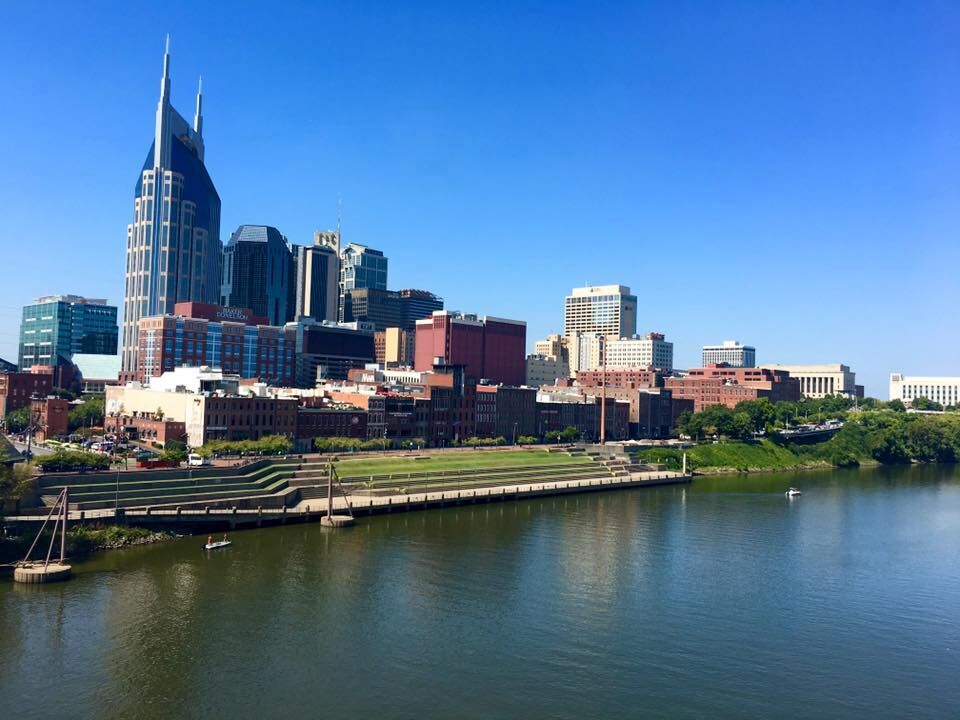 The credits for this photo go entirely to my friend Stefan Rekitt.
I can't believe I've been here in Nashville for 5 weeks now.
What happened so far:
I finally got a 15 year old bicycle that carries me reliably through the city.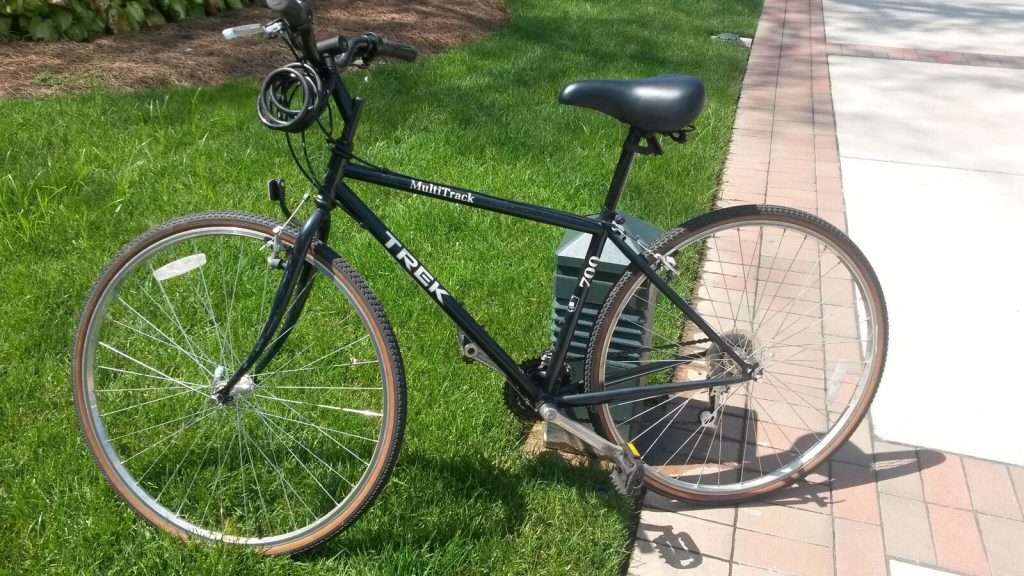 Any suggestions for a name??
I can tell you, public transportation are the plain hell here in Nashville. My friends and I found out when we desperately tried to make it to the Opry Mills Shopping Mall by bus. It took us 2 hours. We waited for the first but for 45 minutes to pick us up. I went to a few concerts downtown and I I noticed that Americans are SOO excited when they listen to their heroes. At a Jerry Reed tribute concert I met a few guitarists I had been keeping track of for years via Youtube. I went backstage, signed two posters and took a bunch of photos. (Wiki: (March 20, 1937 – September 1, 2008) Jerry Reed was an American country music singer, guitarist, and songwriter, as well as an actor who appeared in more than a dozen films.) Yes, I thought the same when I wrote this and I can't explain how this happened, either.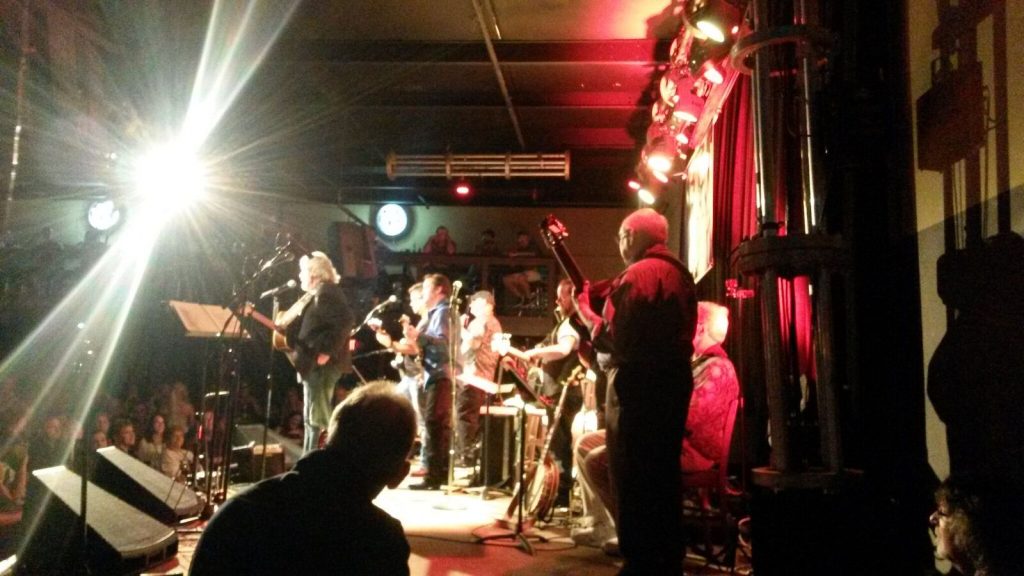 Jerry Reed Tribute Concert 9-7-16
One of my biggest heroes in the world of songwriting, Ben Folds, gave a concert with the Nashville Symphony. Mind-blowing. I have bought the ticket already months ago when I knew I would study in Nashville.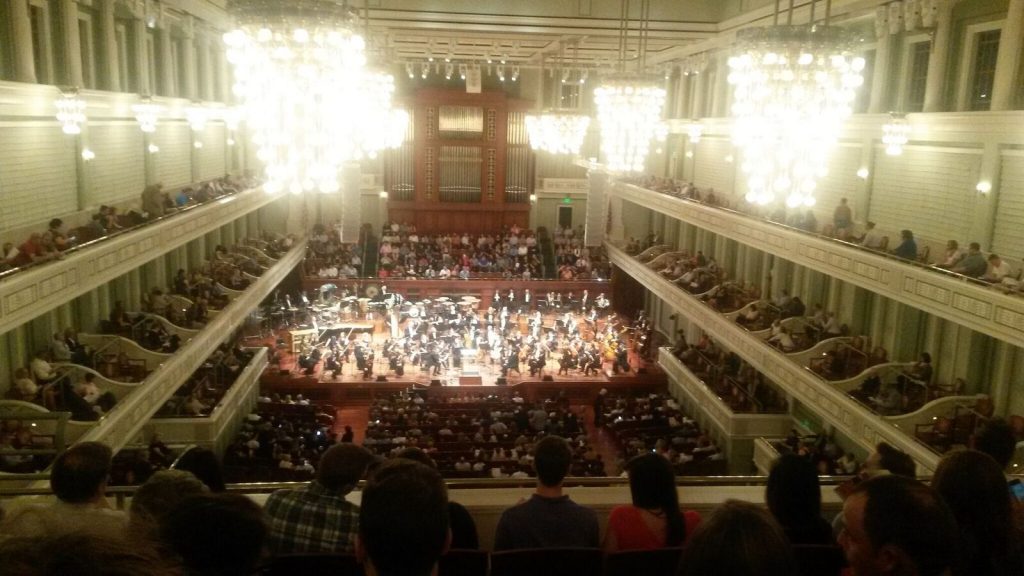 Ben Folds at the Nashville Symphony 9-9-16 
The legendary Brian Wilson, mastermind of the Beach Boys, gave a fantastic concert in the amazing Ryman Auditorium.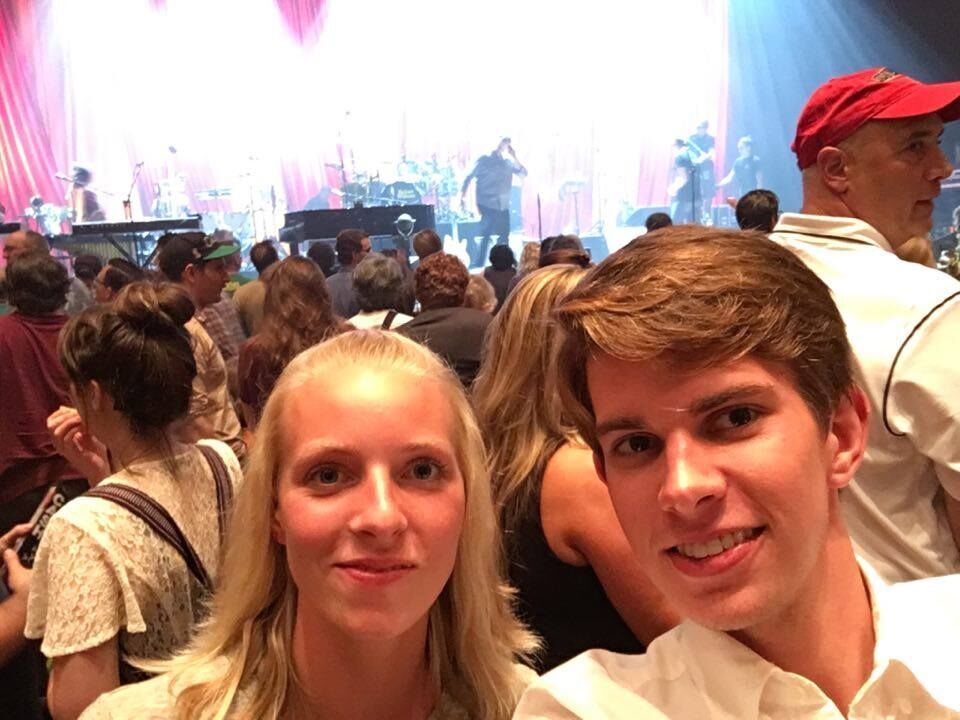 After the concert of Brian Wilson in the Ryman Auditorium in Nashville 9-17-16
You see, I am having fun over here. Somehow I keep running into people and opportunities like these pop up out of nothing.The workload at the university is getting heavier, but I am still enjoying everything. In composition class with my 90 (90!) year old teacher we just finished an arrangement for strings of an instrumental guitar piece I wrote earlier this year. But actually I wouldn't care if we don't compose a single note. I just enjoy sitting next to the legend of Bill Pursell and let him tell me about his life as a musician. He is so kind and would never show off, so I do it for him now: He played the piano on Johnny Cash's recording of "Ring Of Fire". He also was in the room when in the 70s someone accidentally caused distortion for the very first time somewhere down in a studio on Music Row on 16th avenue. That is a street just north of the Belmont University.
(Wiki: Distortion and overdrive are forms of audio signal processing used to alter the sound of amplified electric musical instruments, usually by increasing their gain. Distortion is most commonly used with the electric guitar.)
He almost fell of his chair he said. It's a privilege to be able to spend time with him.
Generally the way my schedule at this American University is structured much the same as a combination of Germany University and High school. Many of the classes take place either Monday, Wednesday and Friday or Tuesday and Thursday, except for private lessons like guitar, voice, composition and songwriting. Here is my schedule for the week of Oct 3rd to 9th.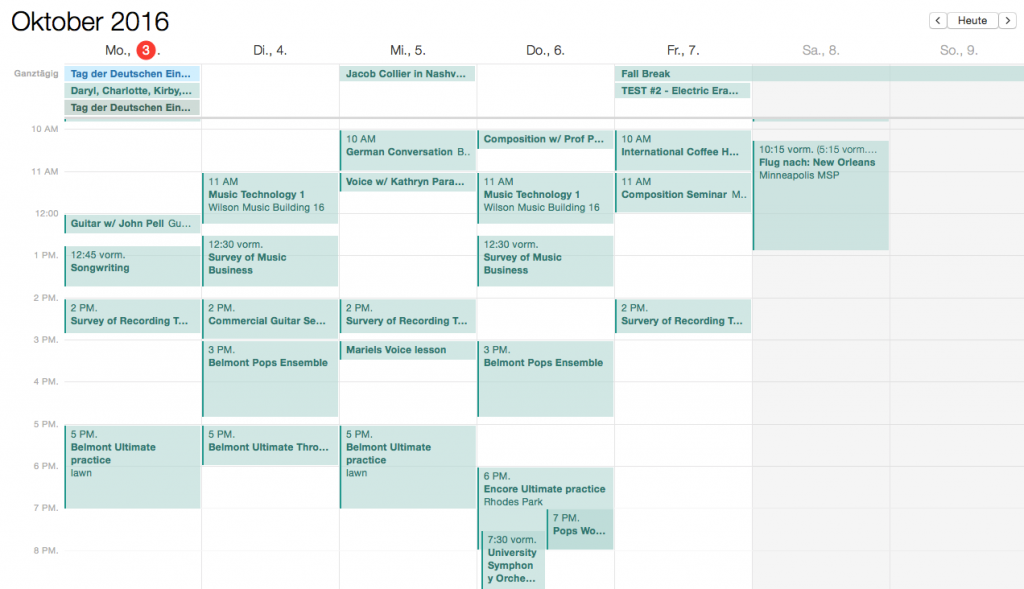 Schedule 10-3-16  
It's weird, so many things happened and yet I don't know what to tell you. I hope your hunger for information is satisfied for the moment.
A short last note on Ultimate Frisbee:Regionals in Atlanta on September 10th and 11th went unsuccessfully. No nationals for us. Sucks. The good thing is that the Belmont women's team is getting stronger every week. Today we had a fun scrimmage game against Vandy (Vanderbilt University). It is just on the other side of 21st avenue. This picture is form our own Belmont wide tournament last weekend: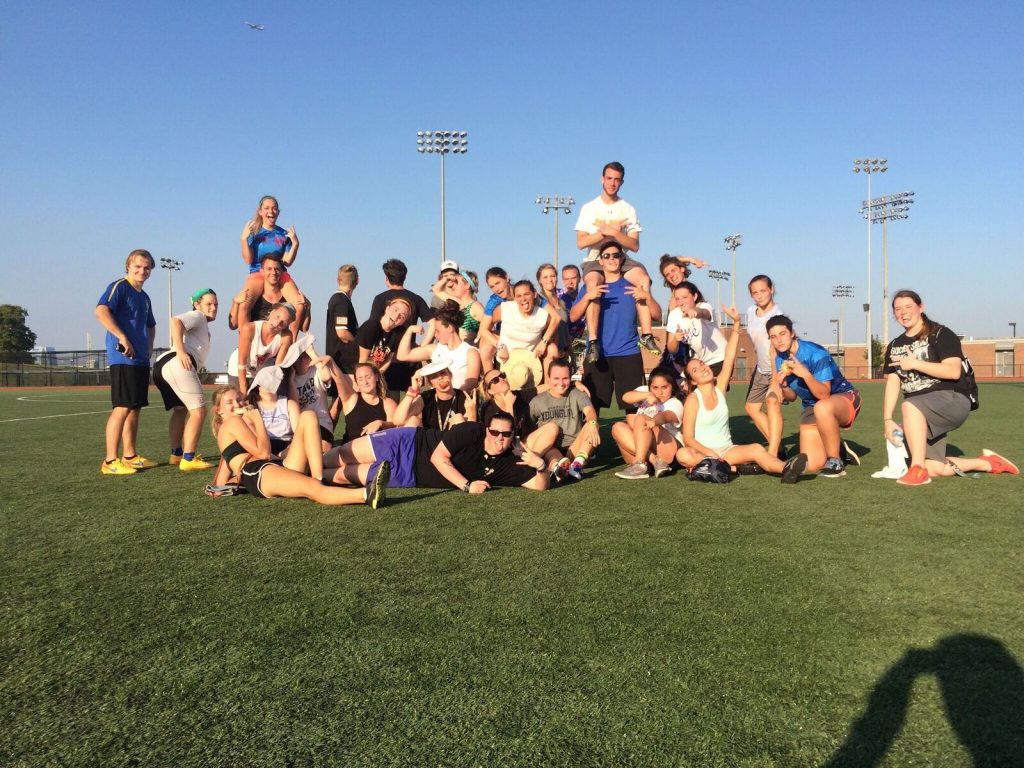 Belmont Frisbee Madness 
I finish this off with a picture of "The International Homies" and the unicorn which we won last minute at the Tennessee State fair.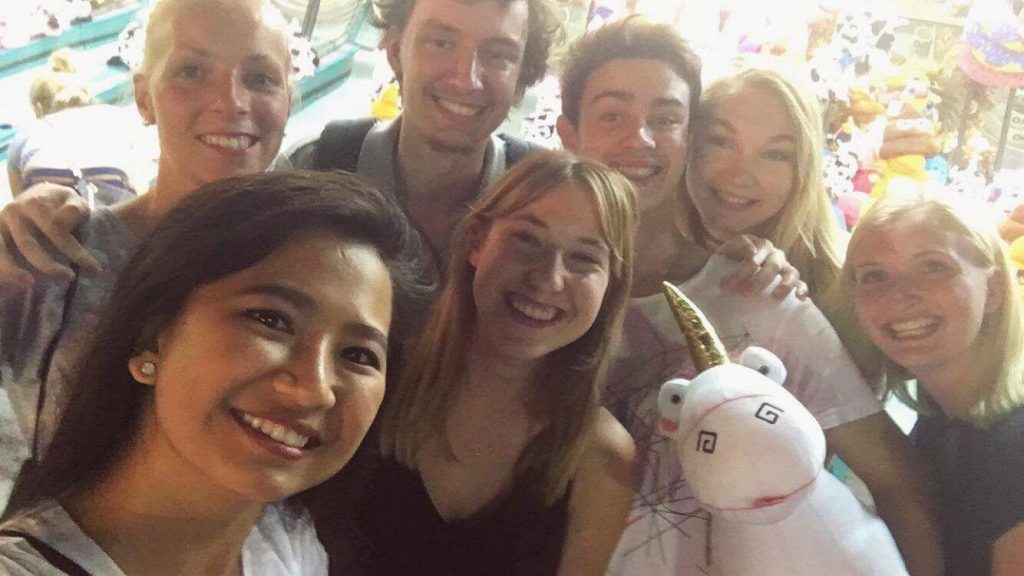 The Homies are: Linda (USA), Pierre & Hugo (France), Johanna & Vanessa (Germany), Simone (Denmark), unicorn (USA). We are missing Charlotte (France) here. 
Best, Judith