Blog entry #3/11-3-16
What's she doin' Wednesday  #wsdw
Let me introduce you to this new little format. For 3 weeks I've been uploading a new snippet of what I am doing over here to Instagram (@judithbeckedorf) and share it on Facebook and for those deterred by social media also on this website. You find the short films in WSDW.Those videos will definitely be released every Wednesday on Instagram, it might appear on this website a little later.
Critical Thoughts
And now, after advertising the whole 'Nashville experience' and presenting it into bright light it is time for some critical thoughts.
Campus flowers… everywhere and they are always fully in bloom. As soon as there is a flower that is withering it gets replaced. The next day. Picking your first rose on campus (and being caught): $50 punishment, the second rose relieves your pocket of $100.There are at least 10 to 15 gardeners working full-time carrying their electric leaf blowers, mowing the lawn or fishing rose leafs out of the fountains. It is by far the prettiest campus I have ever seen. And I love it. A conversation with one of my roommates (psych major) introduced me to the idea that this bright and appealing environment is helping to refresh the students minds after each lesson. A few students I talked to have also been attracted to study at Belmont after seeing it's beautiful campus. I heard there is a company donating $1Million each year for garden maintenance at Belmont.Sometimes I wonder why they don't use that money to equip some of the dorms better or to create more practice rooms or, for most, make studying at this prestigious university more affordable. I see a lot of things that one could cheap out on. But that's just not how the system over here works and how people think. It seems to me like one's appearance to the outside is most important. My personal priorities in spending money would lie elsewhere.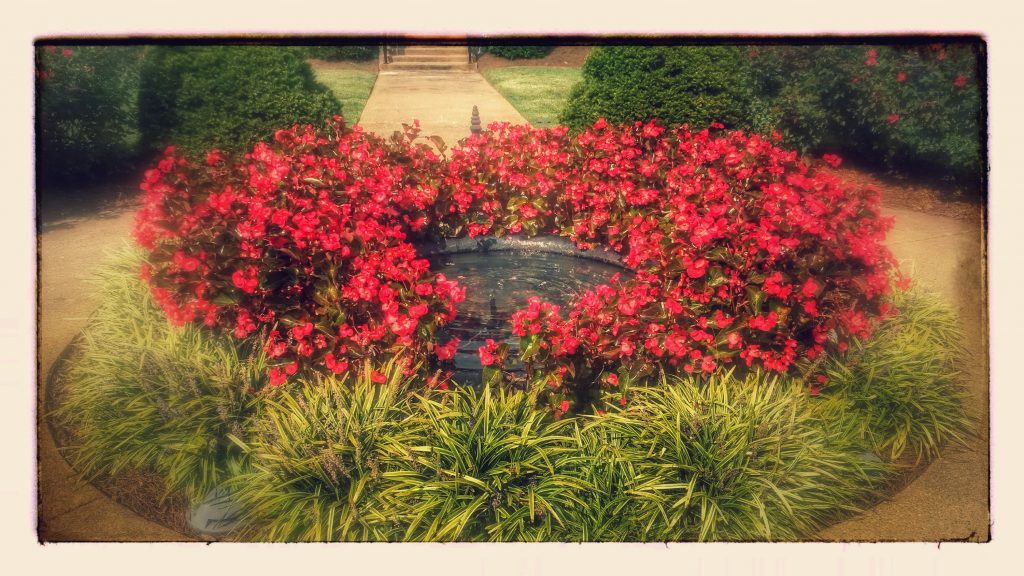 Google Photos automatically created this appropriate shot for me.
Habits
A sandwich on white bread with turkey, spinach and a piece of tomato. With mayonnaise and can you toast it, please? I don't have to say that anymore. On the 360º (behind the counter is a rounded grill they cook your selected food on) I'd always get some green pepper, pineapple, a lot of chicken. Then sweet'n sour sauce. The cooks usually know that when they see me.
My shelf in the kitchen in our apartment is the emptiest among them. There is a glass of Nutella (the third large glass since I arrived here), a package of granola bars that keep alive on busy days when there's no time to go to the cafeteria ('Caf'), a package of frosted flakes (I feel like a thirteen-year-old when I eat them, a very satisfied and happy thirteen-year-old) and some gummi bears which have been sitting there for a while now. I am easily fulfilled and like efficient quick breakfasts. I know… I am so German. Though I usually can't wash my dishes right away since I am the first one to be awake in the morning.
Wow, I can find less habits than I thought I would when I started this paragraph.
Election
Debates, even though I didn't have the chance to watch any of them in full length, make me mad and angry and aggressive somehow. I saw two candidates pointing their fingers at each other constantly. Blaming each other for mistakes they made years ago. Mistakes… We are all human. Humans make mistakes. ALL THE TIME and that's ok. To me it doesn't make any sense to put each other down this way in the process of election for probably the most powerful official position on this planet. They are chasing their own tails. I've been following the whole thing for a few weeks now and know very well what the candidates don't like about each other. What they stand for, what they want to do and change? I have no clue. Facebook posts by the New York Times and Washington Post flood my timeline. The only thing existing next to this is the Baseball World Series and how the Cubs are doing. EDIT: Yai Cubbies, Congrats! After 108 years they finally won that 'World Series' taking place in America.Though everybody in this country seems to be really tired of the election process this topic comes up a lot in all kinds of conversations. Americans often ask me what I think about that and this is my answer: 'If I had to choose it would not be easy. There is either this obviously dangerous man who is raging through this campaign and on the other side this cute, short old woman with a smile that seems to mask a different side than the 'harmless grandmother' behind it' … and it turned out that many Americans feel the same and are embarrassed about the behavior of their presidential candidates. They are confused and I can understand that. To be honest, from my outside perspective all that appears quite entertaining at some points…
Fun fact: Election day – November 8th – is the same day as my Birthday!
New Orleans
Fall Break is a beautiful thing. I spent the time from October 8th until October 11th in that fascinating city in Louisiana with a bunch of international students. Here are a few impressions. There is an omnipresent sense of voodoo floating on the air… Mardi Gras necklaces are everywhere, the houses are colorful and mystic, fortune tellers and people playing music behind every corner. (These photos are partially shot by Caro Bieber and Johanna Kraus)
In front of the entrance of the Louis Armstrong park.
Alligator and Fried Oysters at Felix's Restaurant and Oyster Bar
One way street and Mardi Gras necklaces
Beignets. According to Charlotte not perfectly French, but still very tasty at the Café Du Monde.
Random things
Practice Rooms:

This is the way I walk every morning to the practice rooms in McAfee Concert Hall. We are meeting Friedel Morgenstern. I think it's best if you read about her on her wikipedia article (German):  
https://de.wikipedia.org/wiki/Friedel_Morgenstern]
The hidden Nashville music scene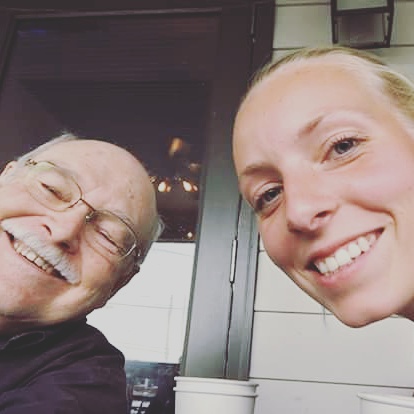 A shot with guitar legend and cgp (certified guitar player) John Knowles at the most American coffee place I have ever seen. (Sam and Zoe's)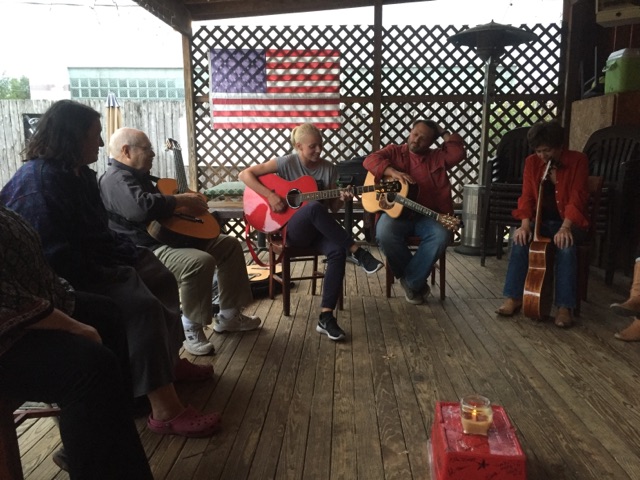 Later that day we went on to the Wilhagan's Writers night and played a couple of songs and tunes.
Frisbee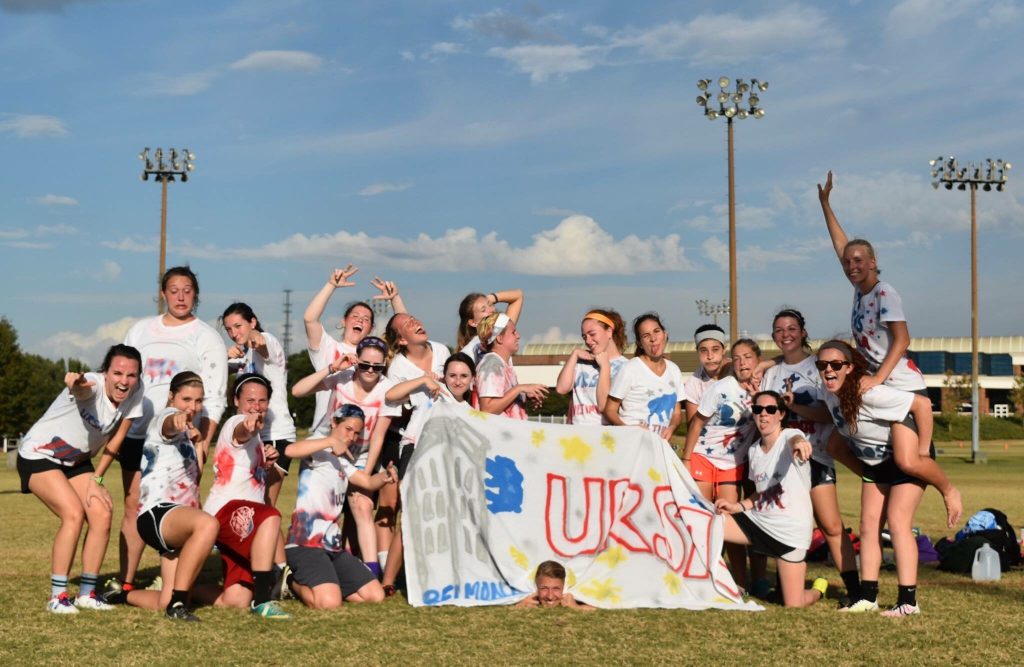 5th place for URSA (Belmont's heraldic animal is a bear) at Gulf Coast Warmup tournament at the University of Alabama
Tim is now officially the strongest woman of Atlanta Bucket's club team. And I really thought I could win…
4th place. Best result so far and first participation in the WINNER BRACKET of a tournament at Itchfest right across 21st Avenue South at Vanderbilt in Nashville
Recording
I spent a few hours at Lowell Britt's place. The result is (among others) this video of an original song I wrote in 2015. Caution! This is in German.
It is the first track of an EP that I released in February 2016. It is called "Flowers" and you can listen and buy it here
Football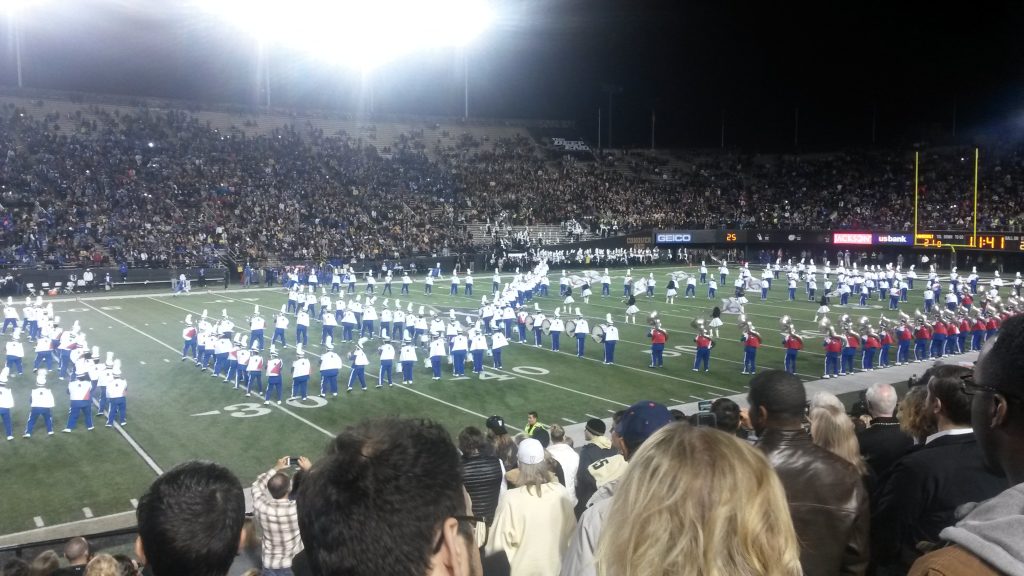 A college football game at Vanderbilt University. They won!Random fact: Sometimes the college football stadium is the biggest building in a city here in the US.
Perfectness of laziness: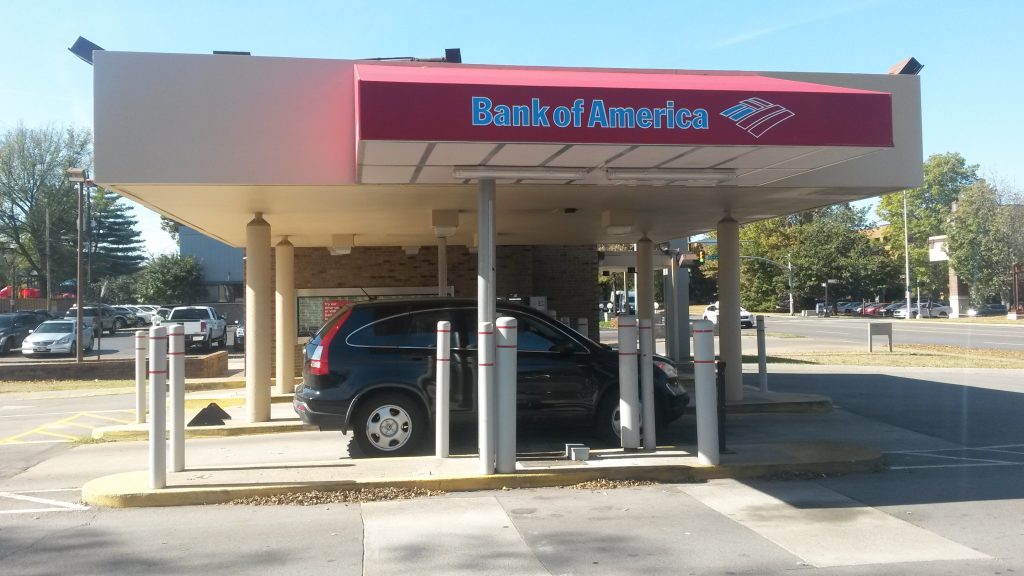 …A Drive Up ATM. Draw money without having to leave your car.
Last weekend I became a little more American. Our roomie took us to a farm with pumpkin patch about 30 minutes south of Nashville. We chased each other through a corn maze, collected all kinds of leafs, and took a ride on a trailer that usually carries hay rolls. This picture shows us in the bamboo forest:
Halloween
If there is one thing that these guys over here take seriously, it's probably this: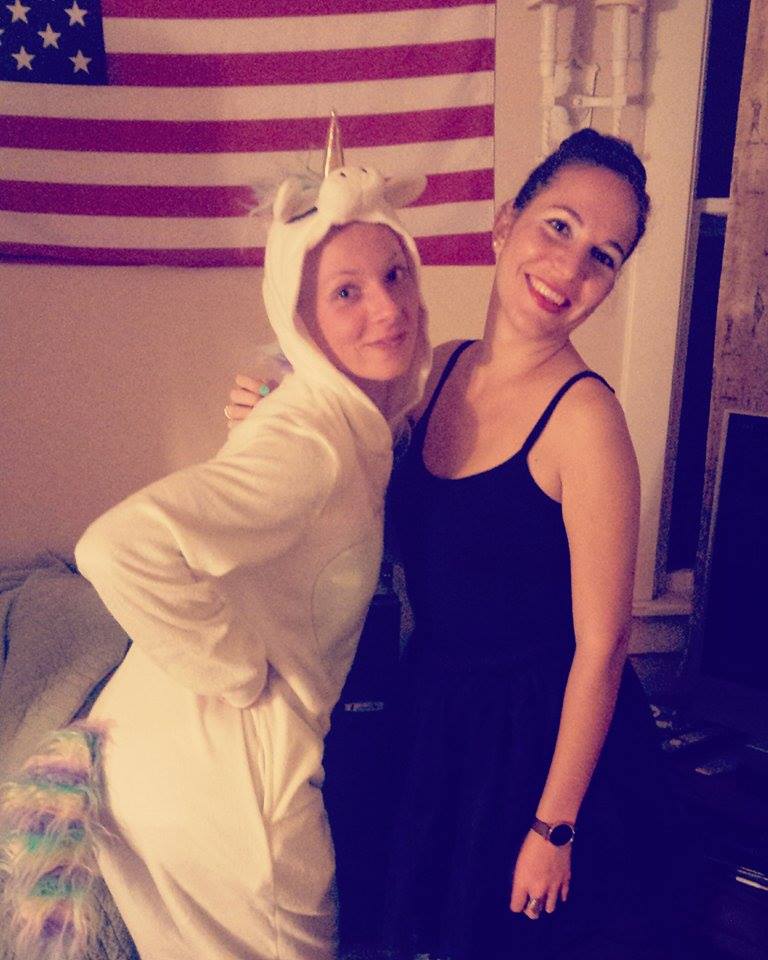 A Unicorn and a Black Swan
A witch in the cafeteria at Belmont
Weather
For a few hours a day it's still bloody hot here. People keep reminding me that this is not normal even for the American south. I love it though
 Taken on 10-31-16